Recent Events:

On June 7th and 8th, 2018, over 140 people attended the NYU 71st Annual Conference on Labor. New leaders at the DOL (Solicitor Kate O'Scannlain) and NLRB (Chairman John Ring and General Counsel Peter Robb) addressed the audience, while academics, plaintiff and management attorneys, government and company representatives discussed developments in the labor and employment field under the Trump Administration.Labor Center Faculty Director, Professor Samuel Estreicher, presided over the Conference.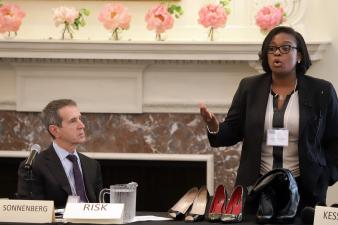 Labor Center Board Member Marjorie Mesidor (Phillips & Associates) gives a dynamic presentation on Elimination of Bias, illustrated by audience reactions to various shoes. Seated Left: Stephen Sonnenberg (JAMS)
SOME OF THE ISSUES DISCUSSED:
"Joint Employer" Issues
DOL's "Paid" Program, Opinion Letters, & Other Initiatives
Prior Salary Disclosure Laws
Changes at the NLRB
Reverse Preemption
Harassment in the Workplace
EEO Initiatives
Non-Mutual Issue Preclusion?
"Hire American" Labor Policies
The Conference was made possible in part by support from:

Avoiding the Next Harvey Weinstein: Sexual Harrassment and Non-Disclosure Agreements
Friday, February 2, 2018 in Greenberg Lounge, Vanderbilt Hall, NYU School of Law
Issues considered:
What are the benefits of such agreements? Does their use shield or promote abusive manager actions and undermine employee rights?
What practices should employers, courts, and government enforcement agencies implement to monitor the use of NDAs?
The update on mandatory class action waivers.
What are best practices for companies for preventing sexual harassment claims and handling crisis management?

Pictured (Left to Right): EEOC Chair Victoria Lipnic, Professor Samuel Estreicher, Michael Delikat, Esq. of Orrick Herrington Sutcliffe, LLP
70th Annual Conference on Labor: Sharing the Gains of the US Global Economy

For our 70th Annual Conference on Labor, as America's leading forum on labor and employment issues, we focused on the challenges faced by the U.S. economy and evaluated proposed solutions.
U.S. Secretary of Labor Alexander Acosta, NLRB Chairman Philip A. Miscimarra and EEOC Chair Victoria Lipnic gave keynote remarks, while Faculty Director, Samuel Estreicher, NYU School of Law presided.
SOME OF THE CHALLENGES ADDRESSED:
·Immigration
·Trade
·Automation
·Income Inequality
SOME OF THE PROPOSALS EVALUATED:
·Tightening Up Temporary Work Visas
·Wage Insurance
·Stock Ownership and Profit-Sharing
·Tax Reform
·Universal Basic Income

FOR MORE INFORMATION, CLICK HERE
Is It Time to Revisit Federal Labor Law Preemption?
Wednesday, November 29, 2017 in Greenberg Lounge, Vanderbilt Hall, NYU School of Law
Is it time to allow more local innovation in labor law by re-visiting the broad pre-emption of federal labor law? What should such allowances be and how should they be effected? Is a new law required or can necessary changes be made by court interpretation? A distinguished panel of both employee and employer representatives considers these questions and evaluates the likelihood of reform, legislative, or judicial.
Featuring: Hon. Wilma Liebman, Former NLRB Chair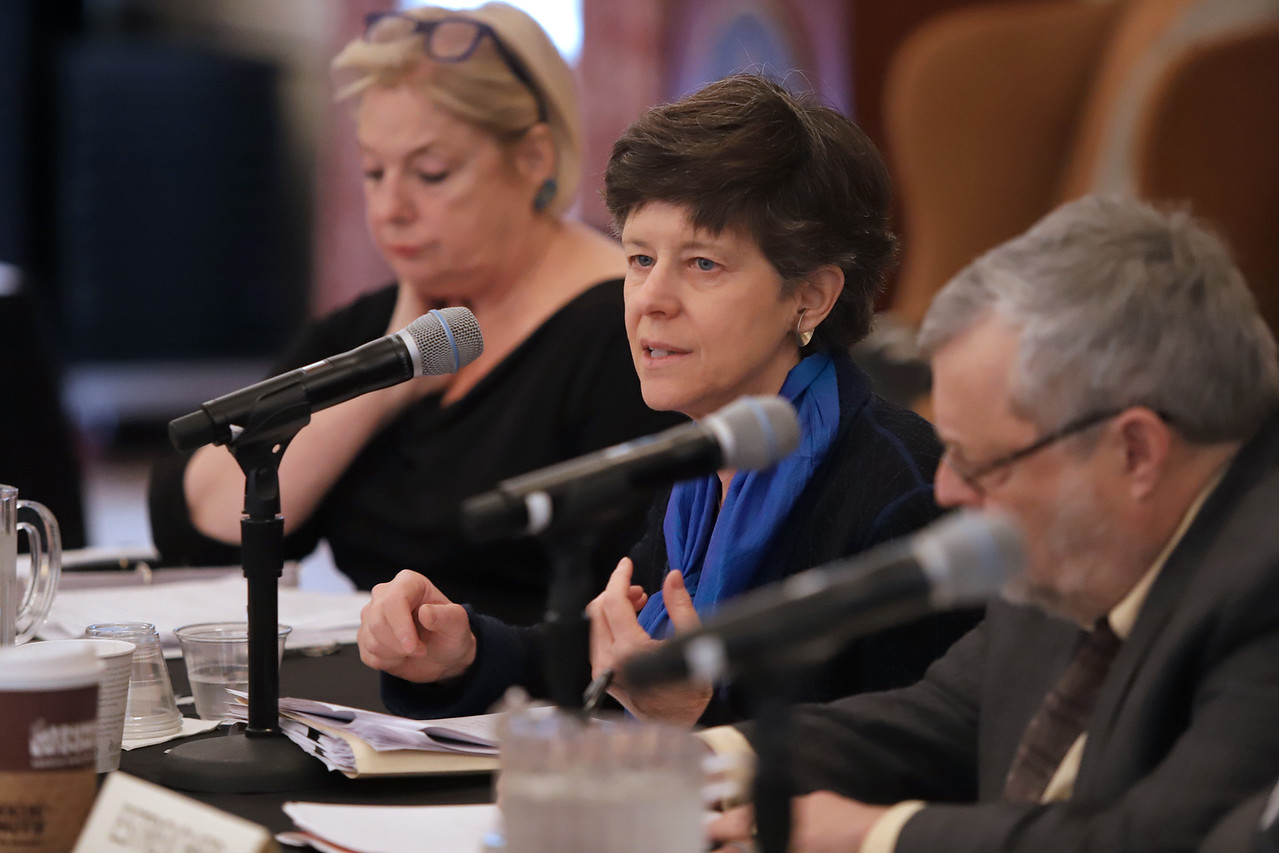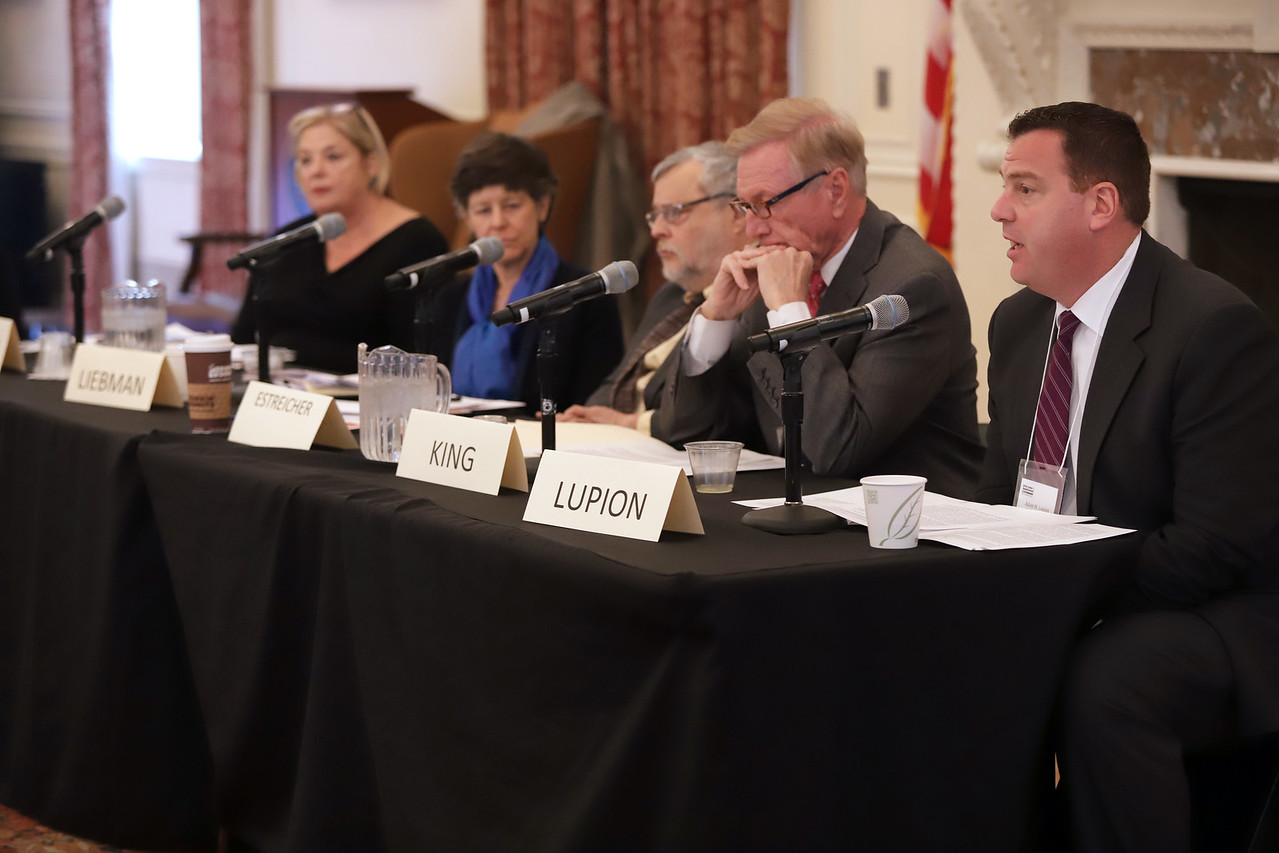 Panel (Left to Right): Mary-Joyce Carlson, Hon. Wilma Liebman, Prof. Samuel Estreicher, Roger King, Adam M. Lupion
Media:
"The Supreme Court Did Workers A Favor" by Samuel Estreicher
https://www.bloomberg.com/news/articles/2018-05-24/how-neil-gorsuch-s-ruling-on-class-actions-does-workers-a-favor
"Why Business Is Glued To High Court's Public Sector Case" featuring Samuel Estreicher
https://bnanews.bna.com/daily-labor-report/why-business-is-glued-to-high-courts-public-sector-labor-case
"How Unions Can Survive A Supreme Court Defeat" by Samuel Estreicher
https://www.bloomberg.com/view/articles/2018-03-02/how-unions-can-survive-a-supreme-court-defeat