Many leading intellectual figures on the international legal stage are judges or government officials whose duties prevent them from spending more than a week or so away from home. To gain the benefit of such people in our community, some of whom are former academics, the Hauser Global Law School Program invites them to campus as Distinguished Global Fellows. During their brief visits, the distinguished fellows lecture to groups of NYU School of Law faculty and students. Additionally, they participate in selected classes, seminars and colloquia.
Coupled with their participation in the goings-on of the Law School, distinguished fellows participate in the Distinguished Global Fellows Lecture Series. The lecture series convenes each academic year to offer a community-wide welcome to fellows, an opportunity to gain insight from their experiences, and a moment to reflect on their impact in the international legal community. Each lecture has been conducted as an informal conversation with ample time alotted for questions and discussion involving the audience.
2015-2016 Distinguished Global Fellow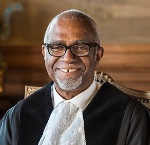 Judge Patrick Lipton Robinson
Judge Patrick Robinson is a Member of the International Court of Justice and a Barrister of Law, Middle Temple, United Kingdom.
Following his call to the Bar in 1968, Judge Robinson had a long and distinguished career in public service, working for the Jamaican government for over three decades. In 1972, Judge Robinson became Jamaica's Representative to the Sixth (Legal) Committee of the United Nations General Assembly, a position that he held for 26 years. From 1981 to 1998, he led Jamaica's delegations for the negotiation of treaties on several subjects, including extradition, mutual legal assistance, maritime delimitation and investment promotion and protection.
From 1988 to 1995, Judge Robinson served as a member of the Inter-American Commission on Human Rights, including as the Chairman in 1991. From 1991 to 1996, Judge Robinson was a member of the International Law Commission. He also served as a member of the Haiti Truth and Justice Commission from 1995 to 1996 and was a member of the International Bio-ethics Committee of UNESCO from 1996 to 2005, serving as its Vice-Chairman from 2002 to 2005.
Judge Robinson was elected a Judge of the International Criminal Tribunal for the former Yugoslavia in 1998 and served as the Tribunal's President from 2008 to 2011.
Judge Robinson holds a B.A. in English, Latin, and Economics from the University College of the West Indies (London), an LLB from London University, and an LL.M. in International Law from King's College, University of London.